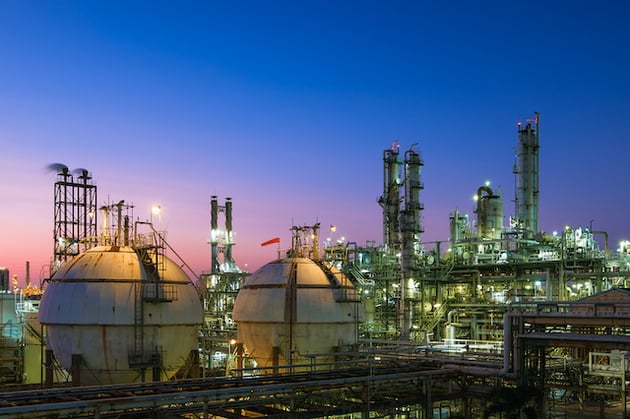 Picking the right materials for the right job is a complex task for a project manager or design engineer, but it's so important to get it right.
Having an in-depth understanding of the available products, researching their properties and knowing the specific environmental conditions that materials will be exposed to, are all key to making the right decision.
Some industries pose more challenges than others when it comes to material selection, and petrochemical processing is one where there are a lot of factors that need to be taken into consideration. Operating temperatures are high, and selected materials will be exposed to a number of different corrosive triggers, including oxidation, sulfidation, carburisation and nitridation environments.
Therefore, when choosing alloys, it's necessary to look for those that offer excellent corrosion resistance as well as the ability to function in extreme temperatures. In petrochemical processing, there is a particular demand for alloys that can resist the synthesis in Fischer-Tropsch reactors. This process involves a series of chemical reactions that convert carbon monoxide and hydrogen gases into liquid; turning coal, natural gas and biomass into synthetic fuel.
This is why INCOLOY and INCONEL alloys prove a popular choice. Based on nickel and chromium, these alloys exhibit high strength, even in the hottest of applications, as well as resistance to a range of corrosive conditions.
INCONEL alloys
INCONEL alloys are a high-performance blend of nickel and chromium, plus significant other additions such as molybdenum and iron. They offer good high-temperature strength across the board, as well as outstanding corrosion resistance. They come in a wide range of forms, including fittings, pipes, tubes, sheet, bars and flanges.
While specific product selection will depend on the particular requirements of the project, there are some alloys that are often chosen for petrochemical usage due to their unique properties. For example, INCONEL alloy 693 is a high-chromium alloy that gives exceptional high-temperature corrosion resistance. It is well known for its ability to significantly reduce or eliminate the risk of metal dusting – the best resistance of any alloy currently manufactured – which is of extreme significance in petrochemical processing. This is the main reason why it is commonly adopted by syngas designers as a material of choice.
INCOLOY alloys
INCOLOY alloys are also an excellent blend of nickel and chromium, but with the addition of iron. They offer an economical solution for use in high-temperature, corrosive environments, and cover a wide range of available products and forms.
INCOLOY alloy 803 is one of the grades that has previously been used for petrochemical-processing projects. It works well in high-temperature situations, and offers resistance in oxidation, sulfidation, carburisation and nitridation environments giving it broad appeal. It also has good long-term thermal stability and stress-rupture characteristics, which are of benefit in this industry. It is of particular use for ID-finned pyrolysis tubing in high-severity ethylene furnaces.
If you would like to have a chat to us about the INCOLOY and INCONEL grades available from Corrotherm, please contact our Sales team today.