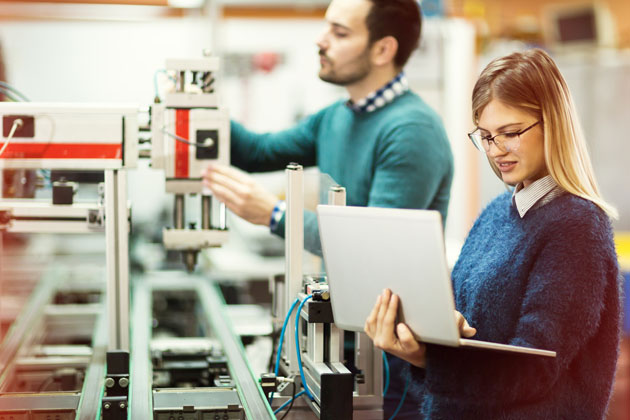 In order for the UK to continue to manufacture high-value goods and materials, it's important that we stay innovative and cutting-edge
While the manufacturing sector in the UK is starting to recover and even thrive in the post-Brexit period, it's important to look to the future to ensure that the industry remains strong, high-value and competitive. We think that innovation is the key to this longevity, and investing in technology and people is the best long-term strategy to stay on top.
The government is also currently committed to continued innovation in UK manufacturing. Innovate UK is the UK's innovation agency, an executive non-departmental public body, sponsored by the Department for Business, Energy and Industrial Strategy. Its aim is to "work with people, companies and partner organisations to find and drive the science and technology innovations that will grow the UK economy". It recognises the high value of manufacturing and advanced materials to the UK's economy, and how this in turn drives success in key industries, such as aerospace, automotive, energy, transport and processing. Innovate UK's programme for manufacturing and materials aims to make sure that those activities with the highest value to our economy stay in or return to the UK.
Facing the challenges
In order to achieve this goal, it's important that the UK is at the cutting-edge of innovation to attract foreign investment, as well as produce materials and products that are ripe for exporting. Innovate UK hopes to achieve this in part by ensuring that businesses can access the best equipment, skills and expertise, with means supporting research and early concepts, as well as advancing digital technologies that could increase productivity and reduce wastage.
Manufacturing is a massive industry that is not only key to the UK's economy, but to the whole of the EU and the world. Manufacturing accounts for 21% of the EU's GDP and 20% of its employment, producing world-class products and pushing key industries forward.
Yet, there are many challenges to face to be able to continue to produce items and materials of high-value to maintain this global position. This means creating high-quality products, quickly and with minimal wastage. It also means adhering to stringent environmental guidelines, showing a responsibility towards being 'greener' and reducing the amount of waste produced during the manufacturing processes.
This is where innovation starts to play its part. New technologies, such as additive manufacturing could be the answer. The advantages are clear; using 3D printing methods means that components are built to exact specifications, using only the material needed and allows bespoke parts to be created without the need for mass orders. The ability to create complex components in this manner helps to drive innovation in design engineering, making new and ever-complex machinery a possibility. It also means that high-value components and parts can be repaired or replaced on existing equipment, improving the cost-effectiveness of operations.
Investing in people
The other piece of the puzzle is having qualified people to help drive this innovation in the UK. The next-generation of engineers will be working in a much more digitally capable environment, where ideas can be realised much faster. It means that skillsets will need to be widened, and training given from as early an age as possible.
There is a twofold problem here. First, there needs to be advanced qualifications and training available to deliver the correct level of learning and help to shape future workers across the manufacturing industry. We are starting to see new courses cropping up – we recently looked at the new Power Engineering Degree Apprenticeship to advance the UK energy sector. The second issue is encouraging young people to show an interest in science and engineering at an early age; all too-often students will drop relevant subjects too soon, narrowing the potential future workforce.