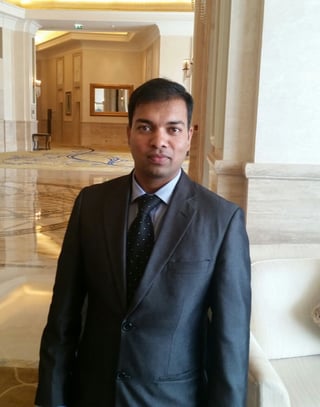 Mohammed Mohseen might be new to Corrotherm, but he brings with him years of technical, specialist knowledge on valve products to help raise the profile of our valves range in the Middle East


Name: Mohammed Mohseen
Position: Sales Manager, Valves
Time at Corrotherm: 3 months
Interests and hobbies: Spending time with family, volleyball

Here at Corrotherm, it's important to have the right people on our team with specialist knowledge to be able to deliver the very best service to our customers, and one of our newest additions to the company is certainly no exception. Mohammed Mohseen brings a wealth of technical and in-depth knowledge of valves. Having recently announced a new product line of valves, as well as a full valves service, Mohammed has fast become an invaluable cog in the Corrotherm machine.

Mohammed started his career at one of the largest pipe specialists in the Middle East as a valve sales and technical support engineer. After three years, he was promoted to the Abu Dhabi office, responsible for catering to Abu Dhabi National Oil Company (ADNOC) businesses and other prominent EPCs for piping packages. We're lucky to have Mohammed on board now as Sales Manager for our valves line in the Middle East, and he is also enjoying the chance to expand his knowledge. When asked what he likes most about his work, he says it's the "immense technical discussion and investigation in finding the answers to customers' requirements". Some of the valves enquiries can have challenging requirements, and need thorough research and speaking with both the customer and the manufacturer to come up with unique solutions.

Mohammed is also enjoying being part of the Corrotherm team, and is particularly proud of the opportunity to work with his Regional Manager Sayeed Junied: "His contribution in developing Corrotherm's Middle East market, even during tough times, is remarkable. I'm happy to be under his leadership, as he gives [me] opportunities to grow and still provides a professional work environment". He's also had the chance to meet with Corrotherm CEO Jan Ward, which is a standout memory for him since joining the company: "She impressed me in our first meeting and her keen interest in new products, [particularly] valves, is remarkable. She created a very positive environment for that meeting and I forgot for a while that I was with the CEO, as she managed to smoothly continue the discussion exploring all sorts of ideas."

As well as an in-depth knowledge of the valves market, Mohammed has a great understanding of the industry as a whole. He is positive about where things are heading and what the next five years looks like: "I think the industry will grow in leaps and bounds. As we become more industrialised, automation driven and care more about environment, we put ourselves on a path of challenging products. Energy is not only limited to oil and gas, but we have lot more renewables and nuclear, which could add more impetus to our products. Being specialised and ahead in innovation of the market, I think Corrotherm will continue to expand and enter into new avenues of application."

In the working week, the industry and the products are key concerns, but come the weekend and Mohammed is more likely to be found strolling on the beach with his family, or at home having a rich breakfast with traditionally prepared tea with his wife. "My lovely daughter, who is two years old, demands my time on weekends, so she will be [close to] me." He's also a keen volleyball fan, and in his free time enjoys taking part in a game as part of an active lifestyle: "I recall my college days when playing volleyball was a daily routine. I think having some physical activity every day is very important in these days of office work."

Visit our Contact page to see how to get in touch with a member of our sales team.