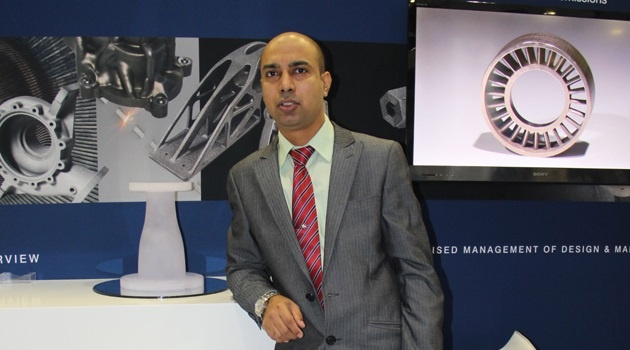 As one of our talented sales managers, working from our Dubai office, Sayeed Junied knows Corrotherm's products inside out, and his easy going, confident nature makes him popular with our customers.
Name: Sayeed Junied
Position: Regional Sales Manager
Time at Corrotherm: Over 5 years
Interests and hobbies: Travelling, walking, cooking
Sayeed Junied describes himself as "a social guy", always in the company of friends or relatives in his spare time. His friendly and outgoing persona fares him well in the business place too, as he works with our global customers helping them to understand Corrotherm's product line and how we can best suit their needs.
Having been with Corrotherm for over five years, moving from FAG Bearings in Dubai, Sayeed loves every part of his job – "from working behind a desktop, to travelling and negotiating with different clients" – but he particularly enjoys the "thrilling wait to receive an order after a long battle".
His success with customers is thanks to his in-depth and detailed knowledge of the products. The INCONEL Alloy 625 is a particular favourite grade thanks to its "excellent suitability for many applications, and [it is] one of our [most] widely supplied alloys. It's also available in many forms and has given us a unique identity as a specialist INCONEL 625 supplier".
He knows this industry inside out and sees the potential pitfalls and challenges that we face. For him, the biggest challenge is the appearance of substandard materials on the market: "The long-term impact of these substandard materials is very dangerous and could even trigger an imminent safety threat. [Our] materials have been developed by Special Metals over several decades, and manufacturers trying to imitate this in just a few years will not be without consequences." If he were given free rein, his solution would be to tighten the specifications for finished products and introduce close scrutiny of the manufacturing process for new manufacturers.
Despite this saturation of lesser materials in the market, Sayeed believes that quality will always win out: "The industry will keep on growing and there is an encouraging trend in the use of nickel alloys for various applications. There are now a few new suppliers in the market, but we have carved a very special place for ourselves, which is not easy to match for many suppliers. Customers not only like us but also respect us, which I believe few companies can enjoy."
Sayeed is clearly very passionate about working for Corrotherm. He has visited us over here in the UK and says that on his first visit to meet with Office Manager Gloria Feany, "I didn't feel like [I was] joining a new company, but meeting old acquaintances. They all were so welcoming and easygoing. The moment was captured in my mind forever".
When he is not being kept busy at Corrotherm, Sayeed likes to start his day with a traditional Indian tea while relaxing, and spending his weekends walking, travelling and cooking for his wife and two-year-old twins. He also cares greatly about the environment, spending a lot of time reading and experimenting with renewable energy projects – although these projects have been overtaken with making DIY kits for his children.
If you would like to talk to a member of the Corrotherm team, you can find all of our key global contacts here.