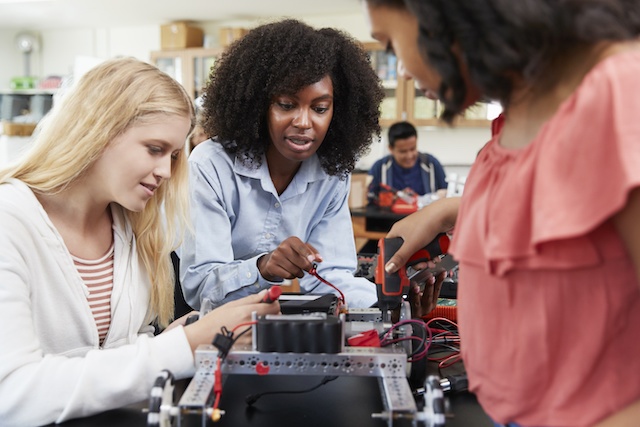 Corrotherm is supportive of the need to improve STEM learning and attract new talent to the manufacturing industry. Here's why…
Engineers, scientists and technicians across the globe have changed the world we live in. Through continued innovation, solving problems and increasing efficiency, these skilled individuals have helped to evolve industry. In order to continue this trend of innovation across all sectors, we need to ensure the next generation is prepared to face challenges head on and present new solutions and technologies.
The UK manufacturing industry is one area where nurturing future talent is essential. The manufacturing sector in the UK is a huge contributor to our economy – 9% of the total GDP directly, and 15% when the entire supply chain is taken into consideration. One of the reasons that the UK manufacturing sector is important on the global stage is due to its ongoing commitment to innovation.
One of the biggest barriers to continuing innovation is attracting enough talent to the industry. As digital manufacturing and Industry 4.0 rises – bringing with it automation, robotics, 3D printing and artificial intelligence – the need for young engineers who understand these applications grows. We need future workers who can develop advanced systems and bring new ideas to propel us through the fourth Industrial Revolution.
STEM learning and career guidance
The key is in improving STEM learning (science, technology, engineering and mathematics) from a very early age. If children are exposed to these subjects and made aware of the potential career opportunities while young, they are more likely to continue to study them throughout their education. Girls, in particular, need more encouragement to continue STEM subjects past GCSE level. In an article in August 2018, The Guardian found that girls who achieved top grades in science and maths at GCSE level were deterred from continuing with these subjects despite outperforming boys at this age.
As well as improving access to STEM learning through school, it's also important that companies and businesses are involved in stimulating interest in manufacturing careers. A career in manufacturing is often overlooked, due to a lack of knowledge of the opportunities available. Its association with production lines and long hours in a factory, borne from a different generation, turns young people off from the industry. However, the manufacturing industry of today needs highly skilled individuals to fulfil a number of far more exciting and essential roles: software developers, data scientists, robotic engineers, product developers, and so on.
Industry initiatives
Initiatives such as Made Here Now are working on changing the perception of UK manufacturing as a career choice. It focuses on the different careers available, the high earning potential and the different educational routes open to young talent. It's important that we all work together to show the next generation that manufacturing has options suited to all – from degree courses to paid apprenticeships.
Businesses in the industry are aware of the increasing need for new talent to help drive manufacturing forward and increase ongoing productivity. Domestic talent is important, especially in light of the upcoming Brexit. The Government's Productivity Plan in 2015 recognised the need for a "highly skilled workforce", part of which was introducing the apprenticeship levy "requiring large businesses to invest in their own future". We recently explored the current situation with the levy on our blog.
If the UK is going to maintain its position on the global manufacturing stage, especially after the departure from the EU, the support of STEM learning is crucial. STEM learning at primary school leads to a greater uptake of the subjects at GCSE and A-Level, which then needs to lead into university education or apprenticeships, delivering the highly skilled workforce we need.