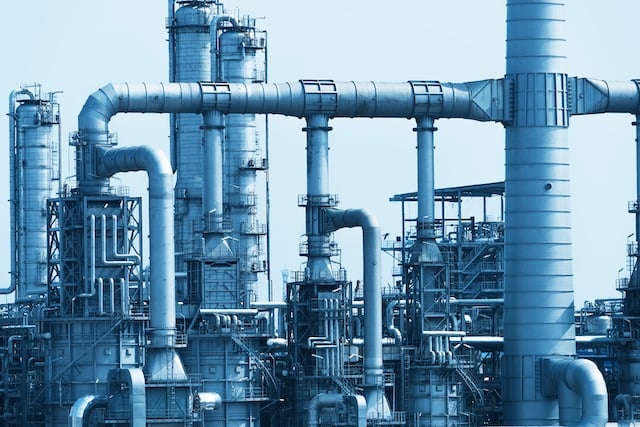 For those looking for a low-cost, reliable alloy that still offers many of the benefits of its better-known and pricier counterparts, then we think that the MONEL Alloy 400 is certainly worth a look.
MONEL Alloy 400 has been around for a long time and yet it is still a versatile choice. We don't often see alloys staying prominent for so long across multiple industry applications, and like another oldie but goodie, INCONEL 625, MONEL 400 bucks the trend. However, this adaptable material pre-dates even the popular INCONEL 625 by a good margin – it was introduced as far back as 1905. It was and remains popular thanks to its key property: the copper content of 28-34%, which differentiates it from commercially pure nickel, while it still retains many similar characteristics to Nickel 200/Nickel 201.
The reason that we see MONEL 400 staying in the mainstream is because it can be employed widely across many different fields, including marine and chemical processing. It has been used for petroleum distillation tower internals, fasteners and fittings, pumps and valve internals for over 100 years. Other applications include process vessels, heat exchanger piping, and gasoline storage tanks.
Because of its properties, it is perfect for high-risk situations, for example in the explosives industry and the pulp/paper industry. It is also use in rocketry, which is particularly topical at the moment – we wonder whether there might be some floating around with Tim Peake (whose trip made our list of favourite things in 2015) in the space station right now!
Use in extreme temperatures
But what makes this alloy so versatile? Well, it has a high strength and toughness over a wide temperature range. On one hand, the alloy is perfect for sub-zero environments due to its strength and hardness, and it doesn't undergo a ductile-to-brittle transition at even the extreme lows of liquid hydrogen.
At the other extreme, it is also useful at temperatures of up to and including 1,000 degrees Fahrenheit in oxidising atmospheres. In a reducing environment, it can also be employed in even higher temperatures.
Corrosion resistance
As well as being particularly suited to extremes of temperature, the alloy also offers good corrosion resistance, which is certainly a desirable quality. It is shown to be more resistant to attack by oxidising elements than higher-copper alloys. This is why it is consistently popular in marine applications, as it has very low corrosion rates in flowing seawater. It is also resistant to stress corrosion cracking and pitting in most fresh and industrial waters.
Another beneficial area in which it provides exceptional resistance is in the presence of hydrofluoric acid, in all concentrations up to the boiling point. It is considered one of the most resistant of all commonly used engineering alloys.
Manufacturing process
The MONEL Alloy 400 is a solid-solution alloy that can only be hardened by cold working. However it can be hot worked or cold worked followed by annealing. It is a material that remains bright and free from discolouration when heated and cooled in a reducing atmosphere. Whether hot or cold worked, it needs thermal treatment to give it its notable strength and toughness.
It is readily fabricated by standard processes, which means that it can be produced for a wide range of mechanical properties, increasing its versatility. It can also be machined relatively easily, and joined with itself or dissimilar alloys using most conventional welding procedures.
For detailed technical specifications this alloy, see the dedicated page on our website. To discuss your requirements, please contact a member of our sales team.