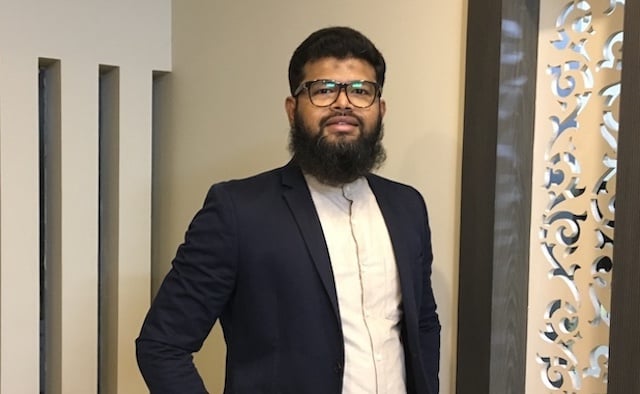 We're proud of our team here at Corrotherm. In our latest Meet the Team blog, we introduce you to our Shipping Coordinator in Dubai Asgar Musthafa
Name: Asgar Musthafa
Position: Shipping Coordinator
Time at Corrotherm: 18 months
Corrotherm International has a strong and talented bank of individuals located all around the world. The close-knit team in our Dubai office, the centre of our Middle Eastern operations, is no exception. Our Shipping Coordinator Asgar Musthafa has been working with Corrotherm since September 2017, and is a valued member of the office.
He has been working in the industry for over a decade. He began his career in 2008, working in the Dubai area as a sea freight coordinator. He has gone from strength to strength since, building up knowledge and experience in shipping logistics. In his past positions, he was involved in process equipment, such as barge operations and rig movements.
This area of work is a particular passion for Asgar, as he says: "Logistics has always been my field of interest. I love to see the customer satisfied with the service we provide and personally I love opportunities to interact with the people, which is part of my job."
It's that interaction and dedication to customer service that makes Asgar the perfect person to act as Corrotherm's Shipping Coordinator. He goes the extra mile to ensure customers are happy, and this is his favourite part of the job: "I would say to get the customer satisfied, which would include the consideration of all possibilities when there is an issue."
Asgar is also keen to develop and learn, and appreciates the way that his colleagues are always helping him to stay challenged: "Working with people who are as curious as I am, and that are more skilled, makes work the best learning environment there is. Every day I learn something new on the job."
It's clear that Asgar is proud of his role with Corrotherm and cites the management teams help and support as a big factor. His favourite work memory to date was meeting founder and CEO Jan Ward: "She is full of energy, which itself is motivating. Also she's caring and considerate to each employee for work-related issues."
Coming into Corrotherm, Asgar has been getting to know the ins and outs of the product range and the industry. He doesn't claim to be a technical person, but he has learned about the benefits of INCONEL alloy 625, its unique feature and demand through his day-to-day operations.
However, he has good insight into the biggest challenges facing the industry from his own perspective and is aware of what needs to be done to continually offer quality service for customers: "The industry has become quite competitive and challenging over the past two years. But to be able to handle the surprises and challenges helps us improve as an organisation. Each customer has to be treated according to their requirements. This also includes a willingness to update in every means – providing good customer service is a continuous learning process."
Of course, it's not all work for Asgar, and he does like to spend time off-duty catching up with friends or in the kitchen, with a secret talent for cooking and baking. He also applies the same motivation and drive to his personal life as he does at work, with a plan to brush up on his athletics skills at the weekends having been off the track for some time.
Find out how you can contact Asgar directly, or any other member of our Sales team, by visiting our Contact page.