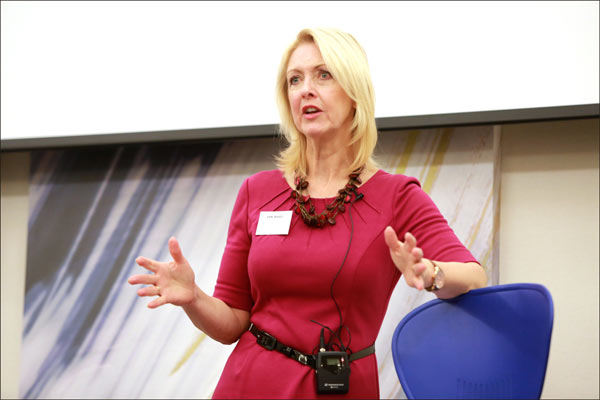 Corrotherm CEO Jan Ward inspires the next generation of female engineers through an insightful article in Woman in Trade magazine.
Following on from her recent feature in 3D fab+print – where she talked about the future of 3D printing and how different alloy grades are being used within different markets – Corrotherm's CEO Jan Ward has been hitting the headlines yet again.
Jan has been highlighted in the Spring edition of Woman in Trade magazine, which is the first UK magazine focusing exclusively on tradeswomen. Woman in Trade magazine chose to feature Jan as part of its engineering news, celebrating women in mechanical engineering. And we couldn't think of a better tradeswoman to fit the bill than our very own Jan!

The article profiles Jan from her schooldays, when she was interested in metalwork and technical drawing classes, but prevented from doing so due to her gender; through to her starting her own business, Corrotherm, and making waves in the engineering industry.
Her story is certainly an uplifting one, spanning over 30 years in the industry and proving that women can be successful in this arena. Engineering might be overwhelmingly male dominated, but we believe that Jan's story appearing in notable publications like this could help to inspire the next generation of female engineers.
This is an area that Jan is particularly passionate about: changing the prejudices and opinions surrounding engineering for women and encouraging more girls to follow a path into this industry through their education. She would like to see engineering introduced as soon as primary school to spark an interest at a young age and hopefully improve the gender balance in the future, with more young women choosing to take on engineering apprenticeships.
With women like Jan to look up to, the next generation certainly has something to aspire to. Her rise to the top started in a fairly traditional manner, graduating from the Institute of Export, working as a steel stockholder and eventually, in 1992, starting Corrotherm to distribute high-grade metal alloys. The article also highlights the various honours that she has received since, including her honorary degree of Doctor of Engineering from Southampton Solent University and the CBE she received in 2015 for services to businesses.
Jan talks about how she set up Corrotherm to be a business that values its employees and their technical expertise – the close-knit team here at Corrotherm can certainly testify that she has met her goal, and we're all proud to work for such an eminent CEO.
During the interview, Jan acknowledges that the industry faces tough times due to the dip in oil prices, but as always her optimism and enthusiasm shines through: "At the moment it's about keeping the momentum going and coming up with new ideas for growth."
We believe that encouraging more young people, both male and female, to take on roles in engineering is going to be key to the survival of the industry, as they bring new enthusiasm and new ideas in the future.